• Tropical Darwin in Australia - Over 500 photo's and 100 pages of great free useful travel guide tourist information
• Kakadu National Park in Australia - Over 350 photo's and 80 pages of great free useful travel guide tourist information
• Litchfield National Park in Australia - Over 300 photo's and 90 pages of great free useful travel guide tourist information
Darwin to Kakadu National Park Australia

This is a site offering external links on the Arnhem Highway from Darwin to Kakadu National Park in Northern Territory Australia. Owned by a Darwin based 4wd travel and rental specialist Australia 4 Wheel Drive Rentals

A Kakadu National Park tourist travel information guide, visiting and staying in Kakadu, around and about Kakadu National Park with tropical Darwin the capital of Northern Territory Australia just 253klm away. If travelling by road, you should allow 3 hours travelling time from Darwin to reach the Kakadu entrance gates via the Arrnhem Highway from Darwin. Maps of the road to Kakadu and of Kakadu National Park.

Leaving Darwin to Kakadu is generally travelled on the Stuart Highway from Darwin. Darwin CBD is basically 5 straight roads running into Daly St which is around 2klm long and that runs and begins the Stuart Highway. Map of Darwin CBD. If you take the Stuart Highway it's around 22klm to the junction with the Stuart Highway veering left to Katherine, Alice Springs, Kakadu and Litchfield and if you keep straight the road goes to the smaller city of Palmerston (Pop App 30,000 and growing rapidly by the minute) straight ahead. Palmerston is also the home of our Defense base. Also to be developed is the new city of Weddell.

Humpty Doo - Stuart Highway from Darwin to Kakadu

Down the highway around 35klm now from Darwin you see the Arnhem Highway on the left with a sign saying Humpty Doo and Jabiru. The first sight of interest alond the highway is the didgeridoo workshop, actually at the beginning but it's on the right of the road. Then further on the giant boxing crocodile at Hunpty Doo
Fogg Dam Conservation Reserve from Darwin to Kakadu

Fogg Dam Conservation Reserve is one of several parks in the lower Adelaide River catchment that provide havens for wildlife in Darwin's developing rural fringe. One of the few wetland systems accessible to visitors all year round.
www.nt.gov.au Fogg Dam
Crocodile Cruises on the Adelaide River and Mary Rivers

There is a choice of crocodile cruises on the Adelaide River and it would be advisable to visit Tourism Top End visitor information centre in Bennett Street, Darwin before you leave Darwin to up to date prices, information and departure times for the crocodile cruises.
Window on the Wetlands Visitor Centre from Darwin to Kakadu

Window on the Wetlands Visitor Centr is 62 klm from Darwin. A great place to stop and view the birdlife from a higher view and also really interesting display's inside to learn about the Wetlands.
Bark Hut Inn & Caravan Park from Darwin to Kakadu


Here is a REAL Aussie Roadhouse with the walls adorned by crocodiles and buffalo. This is a tourist icon in itself and a must see on the way.

Kakadu Information booklet stand from Darwin to Kakadu
Kakadu Information booklets stand and there is a small box that has the free Kakadu Booklet in it if not it would be advisable to visit Tourism Top End visitor information centre in Bennett Street, Darwin before you leave. Also you can collect one at Bowali Visitor centre.

Not Kakadu though incredibly remote and beautiful is Lorella Springs Caravan Park near Borroloola off the Savannah Way
or see here Darwin to Borroloola.

Want to go fishing on a Family Owned 1 Million Acre Waterfront Wilderness Sanctuary bigger than a small country.

Choose a 4wd rental from local experts and experienced staff at Australia 4 Wheel Drive Rentals
See more Lorella Springs photo's at
https://www.facebook.com/Australia4wdrentals

Where is Kakadu National Park

Kakadu National Park an Australian Natural Icon covers almost 20,000 square kms and is 253 kms East of Darwin the capital city of the Northern Territory, Australia.
Kakadu National Park Northern Territory
Australia a World Heritage listed area that has been listed for it's cultural and natural heritage and Kakadu is the largest terrestrial national park in Australia.
Life in the park does depends on the water, also in respect to the tropical monsoon climate that produces the downpours of the tropical humidity of the "wet" season, and the milder weather of the "dry" season.
Kakadu National Park is the gateway to Arnhemland. The sealed roads from Darwin to Kakadu is via the Arnhem Highway and from Katherine to Kakadu National Park via the Kakadu Highway. The Bowali Visitor Centre near Jabiru Kakadu National Park is located 253 km from Darwin in Northern Territory Australia via the Arnhem Highway entrance. If travelling by road, you should allow 3 hours travelling time from Darwin.
Kakadu is the second largest national park in the world and and is home to approximate number of species: Mammals: 62, Reptiles: 123+, Birds: 280, Freshwater Fish: 51, Insects: 10,000, Frogs: 25, Plants: 1,275. (many are rare and occur only in Kakadu)
Aurora Kakadu South Alligator Resort

With accommodation and camping facilties. Fill up for fuel before driving down to Cooinda. Just to be safe I would fill up here and check the road conditions. Aurora Kakadu situated in the Kakadu National Park is the perfect base to visit one Darwin to Kakadu Travel Guide

Bowali Visitors Centre from Darwin to Kakadu

Please note that the information in this document may not necessarily provide the latest details. During the dry season written road reports may be provided on a weekly basis as road conditions are less variable and road reports are not loaded onto the web on weekends or public holidays. For the latest up-to-date details, contact the Bowali Visitor Centre on 0889381121 or +61889381121

The offical website is www.kakadunationalpark.com
For the latest up-to-date details, contact the offical
Bowali Visitor Centre during hours only on
Aust Tel: 08 89 381 121 or Int Tel: +61 889 381 121.
The Arnhem Highway is a our opinion is approx. 222.6 (klm) kilometres from the Stuart Highway turn off in the Northern Territory of Australia. It links the mining town of Jabiru, in Kakadu National Park, to the Stuart Highway 35 kilometres south of Darwin. There are many different opinions on the distant but we have taken our estimate from the book Outback Traveller and our our driving records.
• Darwin CBD to Stuart Highway turn off 35.5klm

Start of Arnhem Highway from Darwin to Kakadu

• Stuart Highway turn off to Fog Dam turnoff 24.6klm

• Fog Dam turnoff to Window on the Wetlands 4.4klm

• Window on the to Wetlands to Adelaide River 1.3klm
• Window on the to Wetlands to Djukbinj National Park turnoff 15.1klm

• Djukbinj National Park turnoff to Corroborree Park Inn 9.9klm

• Corroborree Park Inn to Corroborree Billabong turnoff 0.5klm
• Corroborree Billabong turnoff Hardy's Lagoon App. 4klm
• Corroborree Park Inn to Mt Bundy Station turnoff 13.1klm

• Mt Bundy Station turnoff to Bark Hut Inn 14.7klm

• Bark Hut Inn to Old Jim Jim Road turnoff 17.6klm


• Old Jim Jim Road turnoff to Wildman River (West Branch) App.16klm
• Old Jim Jim Road to Boundary Kakadu National Park 17.6klm

• Boundary Kakadu Park to Wildman River (East Branch) 7.0klm

• Wildman River (East Branch) to Kakadu Visitor Information 10.9klm

• Kakadu Visitor Information to 2 Mile Hole 1.5klm
• Kakadu Visitor Information to 4 Mile Hole 1.5klm (Same turnoff)

• 2 Mile Hole + 4 Mile Hole to West Alligator River 2.3klm

• West Alligator River to West Alligator River (West Branch) 10.2klm

• West Alligator River (West Branch) to (East Branch) 8.6klm

• West Alligator River (East Branch) to Flying Fox Creek 3.6klm

• Flying Fox Creek to Red Lily Billabong 8.8klm
• Flying Fox Creek to Alligator Billabong 8.8klm (*Same turnoff)
• Flying Fox Creek to Old Jim Jim Road 8.8klm (*Same turnoff)

• Red Lily Billabong to Aurora Kakadu Resort 5.0klm

• Aurora Kakadu Resort to South Alligator River 3.1klm
• Aurora Kakadu Resort to Boat Ramp Launch 3.1klm

• South Alligator River to Mamaluka Wetlands 7.7klm
• Mamaluka Wetlands to Ubirr turnoff 27.7klm

• Ubirr turnoff to Kakadu Highway turnoff 1.4klm

• Kakadu Highway turnoff to Jabiru turnoff 1.5klm

• Jabiru turnoff to Jabiru township1.5klm
• Jabiru turnoff to Jabiru airport 6.3klm
For the latest up-to-date details, contact the offical
Bowali Visitor Centre during hours only on
Aust Tel: 08 89 381 121 or Int Tel: +61 889 381 121.
Reports by Region - Road Report Website
http://www.ntlis.nt.gov.au/roadreport/obstructions-byregion.jsp
Kakadu National Park Australia
Kakadu changes dramatically at different times of year.
A visit during the monsoon months (November to April) brings vivid green landscapes, spectacular flooding, electrifying afternoon storms and the chance to explore with fewer visitors. Come during the drier months (May to October) to explore a much greater range of visitor sites and enjoy free ranger-guided walks and talks.
Kakadu's Aboriginal owners recognise six different seasons.
There are subtle variations that signpost the transition from one season to another - changes in the weather, which plants are in flower, and which bush foods are abundant. This knowledge of nature is fundamental to the culture of Kakadu and its people. Bininj/Mungguy have lived with the changing landscape for tens of thousands of years, adapting and using the land for food, shelter and general well-being. Coutesy NT Parks
Gudjewg | Monsoon season
December to March | average temperatures: 24°C - 34°C
Gudjewg, from December to March, can be described as the 'true' wet season.
Banggerreng | Knock 'em down storm season
April | average temperatures: 23°C - 34°C
Banggerreng, in April, is the season when the rain clouds have dispersed and clear skies prevail.
Yegge | Cooler but still humid season
May to June | average temperatures: 21°C - 33°C
Yegge, from May to mid-June, is relatively cool with low humidity. Early morning mists hang low over the plains and waterholes.
Wurrgeng | Cold weather season
June to August | average temperatures: 17°C - 32°C
Wurrgeng, from mid-June to mid-August, is the 'cold weather' time; humidity is low, daytime temperatures are around 30°C and night-time temperatures are around 17°C. Most creeks stop flowing and the floodplains quickly dry out.
Gurrung | Hot dry weather
August to October | average temperatures: 23°C - 37°C
Gurrung, from mid-August to mid-October, is hot and dry.
Gunumeleng | Pre-monsoon storm season
October to December | average temperatures: 24°C - 37°C Gunumeleng, from mid-October to late December, may in fact last from a few weeks to several months.
Access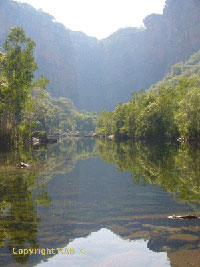 There are no scheduled air services between Jabiru and Darwin however. Other small tourism centres such as Cooinda and South Alligator provide limited facilities. Cooinda, 50km south of Jabiru on the Kakadu Highway is the site of Gagudju Lodge Cooinda, Yellow Water Cruises and the Warradjan Cultural Centre. Fuel and limited provisions are available at Cooinda and there is also a small airstrip for scenic flights. South Alligator approximately 40km west of Jabiru on the Arnhem Highway includes a hotel and service station.
The Border Store near Ubirr Art Site and Cahill's Crossing, 50km north of Jabiru, is a general store. There are a wide variety of designated camping sites throughout the Park. Jabiru, Cooinda and South Alligator all have commercial camping areas and are in close proximity to most of the important natural attractions in these areas. Some of the Park's campsites charge a nominal fee as these have shower and toilet facilities, others are free, however they have limited or no facilities. A list of the sites can be obtained from the Kakadu National Park's Glenn Murcutt-designed Bowali Visitor Centre.
Top Tour Categories or Tour Highlights in Australia:
Search and find all adventure tours to and from within Australia.
• Australian adventure camping and accommodated tours
• Australia Return tours - tours that return to pickup point
• Australia One Way tours - example Darwin to Alice Springs

Find a day tour from Darwin Kakadu | Litchfield | Katherine | Fisihng and more:
• Darwin Day Tours
• Litchfield National Park choice of day sightseeing tours from Darwin
• Kakadu one day and extended sightseeing tours from Darwin
• Katherine Gorge Nitmiluk Tours from Darwin
• Tiwi Islands cultural tours from Darwin
• Darwin Fishing Tours
• Crocosaurus Cove in Mitchell Street Darwin
• Darwin Harbour tours and cruises

The Goholi
Our Mission Statement

Based in Australia and Northern Territories largest licensed Travel Agents Australia 4 Wheel Drive Rentals and Goholi P/L are dedicated to selfdrive campervan and motorhome hire and rentals. We will source the different options for you. We will look at all the extras and find the best vehicle package for you or even a multiple option for you to choose from. With our head Office in the heartland of the Top End of Darwin we can advise you of the current situations of Kakadu National Park, Litchfield, Gibb River Road, Stuart Highway and Arnhem Highway, Kakadu Highway, Uluru - Ayers Rock, Kata Tjuta - The Olgas, the Mereenie Loop.

We have pickup locations in Darwin and Alice Springs in Northern Territory, (Uluru - Ayers Rock for 2WD cars only), Sydney in New South Wales, Brisbane and Cairns in Queensland, Perth and Broome in Western Australia, Adelaide in South Australia, Melbourne in Victoria and Hobart in Tasmania Australia's Island State. As one of Australia's largest campervan, recreational vehicle, motorhome and 4WD rental brokers, we search for availability and the best deals from experienced campervan, motorhome, winnebago, RV recreational vehicles, mobile homes and 4WD established Australian companies throughout Australia for the vehicle of your choice with so that your Australian vacation will be the best you've ever had. At Goholi P/L we pride ourselves on our knowledge and contacts in the car rental and travel industry. We are independant qualified licensed rental brokers with our reliable source of vehicles from the most reputable of the Australia's major companies such as Mighty, Britz, Apollo, 4WD Hire, Maui, Cheapa, Kea. One of the largest range of Australia's 4 Wheel Drive Off Road 4WD wagon cars, 4WD campers, 4WD campervans, 4WD recreational vehicles for around Australia. Travel Sydney, Darwin, Kakadu, Broome, Gibb River Road Western Australia, Cairns, Cape Tribulation, Brisbane, Adelaide, Melbourne and much more across or around Australia.
Click here for Darwin accommodation specials and standby packages

Find a self drive 4wd hire, camper, motorhome or camper rental from Darwin to Litchfield


• See our specials on the search pad on the left or

email and ask us

. Minimum rental is 5 days.

Search below for instant quote with detailed breakdown prices for your Darwin 4wd rental. We also have new model 1-3 years old Darwin campervan hire and luxury family Darwin motorhome hire. Book with a Darwin 4x4 hire based specialist and get personalized experience with your own account manager.Before you enter our quotes area please bookmark www.tropicaldarwin.com first.
Things to see in Darwin in a selfdrive motorhome rental - Darwin's Icon Tourist Attractions
• The Indo Pacific Marine Exhibition • The Australian Pearling Exhibition • Aviation Heritage Centre • Lyons Cottage • Cullen Bay Marina • Parliament House • George Brown Botantical Gardens • State NT Museum & Art Gallery • East Point Military Musuem • Sky City Casino • Fannie Bay Goal • WW11 Oil Storage Tunnels • Stokes Hill Wharf • Nightcliff Jetty • Gardens Park Golf Links • Darwin Golf Club • Darwin Sailing Club • The Esplanade
Things to do in Darwin in a selfdrive motorhome rental holiday whilst in Darwin:
• Wave Pool • Territory Wildlife Park Link • Crocosaurus Cove Link • Crocodylus Park • Deckchair Cinema • Nightcliff Market • Places of interest Free Admission • Darwin Fishing Tours • Sea Darwin • Parap Market • Mindil Beach Market • Rapid Creek Market
Tropical Darwin is part of the specialist for Tropical Darwin sselfdrive leisure vehicle rentals and tour specialist including camping and accommodated one day or extended tours and safaris from the group of Goholi group being an experienced specialist and licensed Travel Agent in Darwin, Northern Territory Australian.